Contact Anne Andrews Email: Tixandrews@hotmail.co.uk
The Newsheet is now only available from this website, unless people indicate they wish to continue receiving it by email, or in special cases, in hard copy.

VACANCY FOR A PARISH CLERK FOR INGESTRE WITH TIXALL PARISH COUNCIL
DUE TO ILL HEALTH OF CURRENT CLERK
Salary to from £10.37/hr to be agreed at interview from National Scale.
Average 3-4 hours per week worked flexibly from home.
We are looking for a committed person to support and partner our 7 Councillors.
Ideally you will hold the Certificate in Local Council Administration, but the Council will support applicants who do not already hold this qualification to complete the course in the first year.
The Clerk organises and attends the monthly meeting on second Wednesday every other month, producing the agendas and minutes, acts on the Council's decisions and handles all correspondence and will, therefore, need excellent communication, administration, IT and written skills.
The Clerk produces a monthly A4 Newsheet which is circulated mainly, electronically.
In addition, the Clerk manages the budget, financial accounts, PAYE and prepares the accounts & governance statement for audit.
Ingestre and Tixall Villages are both Conservation Areas and Tixall is partly inside the Cannock Chase Area of Outstanding Natural Beauty. Ingestre currently has157 electors and Tixall 183 .
Ingestre with Tixall Parish Council aspires to be an Equal Opportunities employer.
Hours:-
Producing Agenda 8hrs x 7pa 56
Producing Minutes and Meeting follow-up correspondence 8hrs x 7pa 56
Producing Annual Report & APM Agenda 8hrs pa 8
Producing Newsheet 2hr x12pa 24
Forwarding Correspondence to Callers and notice of Planning Applications 1hr pw 52
196pa
Other possible tasks:
Update Website
Issue Welcome Packs
Order Remembrance Day Wreaths from Colin Critchlow Tel: 07977117180
Take copies of Monthly Newsheets for year to County Records in May
Take PC Minutes and Accounts from 2 years ago to County records in May
Applications to Mr M.Sindrey at dairy.bridge@sindrey.myzen.co.uk by Thursday March 26th
Please support at least one activity in your local community of Tixall & Ingestre, e.g. Village Hall events, Ingestre Concerts and Ingestre Orangery events.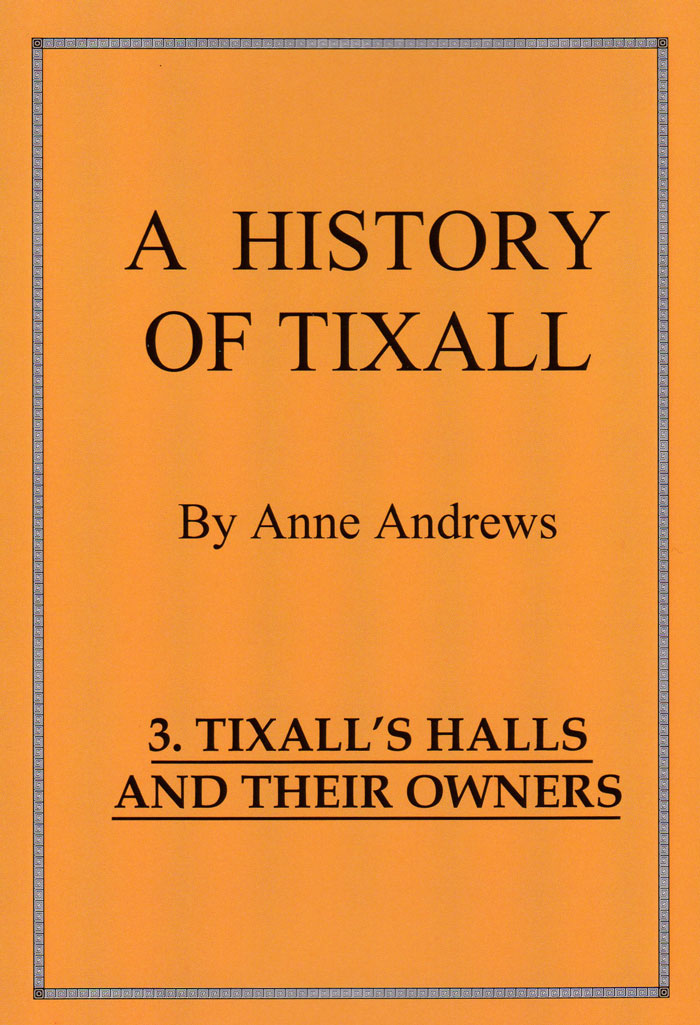 Latest Local History Book on Tixall's Halls and their owners. £7 + P&P from Tixandrews@hotmail.co.uk
Tixall's Churches:
Contents: Early History; Post 1500 - Early Catholics and Protestants; Stephen Dugdale's Evidence against the Tixall group of Catholics 1678-1680; Simon wakelin, Rector 1680 - 1698; Tixall Church in the 1700s & the Church rebuilt in 1772; Tixall Church in the early 1800s; Francis William Webb 1836 - 1906; The 1828 Catholic Chapel at Tixall Hall; The present Church at Tixall built in 1848; Other Churches with Tixall associations; Tixall Church in the late 1800s and early 1900s.
Tixall's Farms:
Contents: Geology & Prehistory; Early History: 1000 to 1500 AD; The 16th & 17th Centuries; The first part of the 18th Century. Changes in the time of Thomas Clifford 1761-1787; The 1800s; Brancote Farms; Hanyards Farms; Tixall Heath Farm; Tixall Farm; Other Farms in Tixall; Insurance information on Farms c1900-1940; Appendix: 1766 Valuation of the Manor of Tixall.
Prices including P&P: Tixall's Churches (132 pages) £5 and Tixall's Farms (200 pages incl. colour) £10
SING & PLAY FLUTE IN STAFFORD One to one teaching . All ages.
Contact Christina Thomson for further information. Tel: 07825 339522
Email: CHRISTINA.149@VIRGINMEDIA.COM
WWI Commemoration project in Ingestre & Tixall
The project website is still at: http://ingestreandtixallwwi.btck.co.uk. although the project has now finished.
INGESTRE FESTIVAL ASSOCIATION SALES
A Short History of Ingestre – 140 page A5 book in colour £7.00;
Catalogue of Paintings at Ingestre Hall £3.00;
1965 DVD of Ingestre £3;
Ingestre oral History CD or DVD £3;
DVD of 2013 Ingestre Festival £3.
All plus Post & Packing if required. Contact Gill Broadbent Tel: 01889 270263; Mobile 07831 390320 email gillbroadbent@aol.com or Sue Paris Tel: 01785 661098.